Does The World Leave You Wanting More?
Maybe you feel exhausted, drained, and overwhelmed with the emptiness of everyday life. Maybe you feel like something is missing. Maybe you know something needs to change, but you have no idea where to start.

Wherever you find yourself in life, you aren't alone. We face those same struggles, and we want to help you through them.

Pinnacle Community Church is a safe haven for growing your faith, developing deep relationships with others, and answering the biggest questions of life. You can come as you are without fear of judgment and leave with the healing and hope only Jesus can provide.
A Home for People of All Walks of Life
At Pinnacle, we provide a warm, welcoming place for you to strengthen your relationship with God and with others. We're more than just a community; we're a family. We walk alongside you on your journey and encourage one another along the way.
Our services are held in large, open spaces where you can know where you need to go right away. We provide inclusive group experiences so you can have a place to connect with others and develop meaningful relationships. We also offer Celebrate Recovery, a 12-step process designed to help you find healing.
Whether you want to find a place for your family to belong, meet people with a shared passion and love for the Scriptures, or learn more about the healing power of God, you're always welcome at Pinnacle.
Learning to unconditionally love God, our neighbors, and ourselves.
Experiencing God's
boundless acceptance and love.
Embracing & practicing forgiveness of ourselves and others.
Acting in a way that brings God's light into our lives and interactions.
Pinnacle doesn't claim anything unique in our statement of faith. These core beliefs are the very ones that the first church believed as they expanded from Jerusalem throughout the world. We don't have time to go into detail, but you will see these core beliefs reflected in our teaching and in the character of our community. If you have any questions about our core faith beliefs don't hesitate to contact our Pastoral Team: Kurt Oheim, Justin Roberts, or Andy Forman.

1 – We believe in God as Father, Son, and Holy Spirit.
God has revealed Himself through the Bible as God the Father, God the Son, and God the Holy Spirit. God is one God in three persons. This concept has been referred throughout the history of the church as "The Trinity." (Genesis 1:1,26,27, 3:22; Psalm 90:2; Matthew 28:19; 1 Peter 1:2; 2 Corinthians 13:14)

2 –We believe in Jesus Christ.Jesus Christ is the Son of God.
He is co-equal with the Father. Jesus lived a sinless human life and offered Himself as the perfect sacrifice for the sins of all people by dying on a cross. He rose from the dead after three days to demonstrate his power over sin and death. We believe that Jesus will come again to establish a new heaven and a new earth! (Matthew 1:22-23; Isaiah 9:6; John 1:1-5; 14:10-30; Hebrews 4:14-15; 1 Corinthians 15:3-4)

3 – We believe in the Holy Spirit.
The Holy Spirit is co-equal with the Father and the Son of God. He is present in the world to make human beings aware of their need for Jesus Christ. The Holy Spirit works in our lives from conception pouring out God's grace into each of us. When we say "yes" to God the Holy Spirit provides the Christian with power for living, understanding of spiritual truth, and guidance in doing what is right. He gives every believer spiritual gifts for building up the church. (2 Corinthians 3:17; John 16:7-13, 14:16-17, Acts 1:8; 1 Corinthians 2:12; Ephesians 1:13)

4 – We believe and trust in the authority of Scripture.
The Scripture of the Old and New Testament is God's truth for us. It was written by human authors under the inspiration of God. It is the supreme source of truth for Christian beliefs and living. Because it is inspired by God, it is the truth that will faithfully guide us in all aspects of life. (2 Timothy 3:16; 2 Peter 1:20-21; 2 Timothy 1:13; Psalm 119:105, 160, Proverbs 30:5)

5 – We believe humanity was created in the image of God but is cursed by sin.
People are made in the image of God to be like Him in character. People are the supreme object of God's creation. Although every person has tremendous potential for good, all of us are hindered by an attitude of disobedience toward God called sin. All human beings need Jesus Christ to save them from the results of sin. (Genesis 1:27; Psalm 8:3-6; Isaiah 53:6; Romans 3:23; Isaiah 59:1-2)

6 – We believe the mission of the Church is to make disciples.
The Church doesn't just exist to get people into heaven but also to train and equip them so that they are complete in Christ and able to live for Him here on Earth. The Church is the hope of the world as it points everyone to Jesus by loving like Jesus loves, by serving like Jesus serves, by sacrificing like Jesus sacrifices, and by forgiving like Jesus forgives! (Matthew 16:18; Acts 4:32-37; Acts 9:31; 1 Corinthians 1:10)
Kurt Oheim is the lead pastor at Pinnacle. He and his wife Laura have been partnering in ministry since 1980 and helped found Pinnacle in 1997. Together, they have pastored churches in Louisiana, Colorado, and Texas. They have four children — Zach, Grayson, Benjamin, and Hannah — who each have growing families of their own. His vision for Pinnacle is to provide people with a safe family environment that helps them grow in hope and purpose as they learn to follow Jesus.
As Pinnacle's community life pastor, Justin Roberts oversees the LifeGroups and pastoring the community. He and his wife have two daughters who are twelve years apart. He arrived at Pinnacle in 2010 and served as the youth pastor for about five years before moving into the community life role. Justin considers Pinnacle his family and loves having the privilege of helping people find and live out the life God has called them to. His other joys are playing guitar, writing, and training for and running Spartan Races.
Andy Forman and his wife Nannette came to Pinnacle in 1998. He joined the staff in 2005. Andy owns Marble Slab Creamery, is a self-proclaimed foodie, and plays tennis. He loves to play guitar and leads worship at Pinnacle. His three children and four grandchildren keep him busy and make him very proud. In his spare time, he and Nannette enjoy traveling.
Tristan Roach, Pinnacle's Youth Director, has a beautiful wife. Although newly married they have known each other for around 10 years. They have no children, but they do have a wonderful dog, Scout, and an absolute cat, Appa. He loves his position at Pinnacle because he gets to see God move in the lives of teenagers. And, as a bonus, he gets to build relationships through playing games and being a mentor. Tristan enjoys long walks on the beach, getting caught in the rain, and is not into yoga.
Hannah Pigg has been at Pinnacle for almost 20 years and on staff since Easter 2014. She and her husband have a beautiful little boy who lights up her world. She is passionate about people encountering the presence of the Holy Spirit and learning to hear the voice of the Lord. She believes everyone has a divine purpose, and God has called each and every person to bring heaven to earth. She's also a cake decorator and, when she isn't chasing her toddler, she loves to craft, play her guitar, and walk around Hobby Lobby.
Jaala Reid is the Director of Children's Ministry at Pinnacle. She has been attending this loving and welcoming church since the beginning of 2018. Jaala was born and raised in Amarillo and is a dog-mom of two sweet fur babies, Gizmo & Mollie Jane. She is an artist and entrepreneur, but, more importantly, a lover of ministry and helping people find the love God has for each of us. She has been blessed to work with the kids at Pinnacle and show them the joy of loving Jesus. In her free time, Jaala loves crafting and anything outdoors!
Laura Oheim joined the Pinnacle staff in 2019 as the growth track director, but she has been a part of Pinnacle since it's beginning. She has volunteered in almost every area of Pinnacle life during the last 22 years. She has been married to her high school sweetheart and best friend Kurt since 1981. Together, they have four grown children and one amazing grandson, Julian. In her spare time, she enjoys cooking and dancing.
Maggie Dean, the connections director, has been working at Pinnacle for over 12 years and has volunteered in almost every area. She has a background in retail management as a store owner, 20 years of experience as a child care director, and several years of experience as an event planner/bridal consultant. She has been married to her husband, Roger, for 45 years. They have two boys and four grandchildren. She really enjoys reading, being in the mountains by a babbling stream, and planning parties for my family and friends.
Stephanie Bankhead is the women's ministry pastor at Pinnacle. Since fall 2013, she has led the women's ministry team, participating in the spiritual health and development of the women at Pinnacle Community Church. God has saved her from the pit of self-destruction, and her desire is for all women to also know the saving power of Jesus. In 1988, she married Ron Bankhead, They have two adult children and four of the "cutest grandbabies you've ever seen in your life." She loves to read, is a girly-girl who likes all things sparkly, and only watches movies that make her laugh. Her favorite verse in the Bible is 2 Timothy 1:7, "For God has not given us a spirit of fear and timidity, but of power, love, and self-discipline."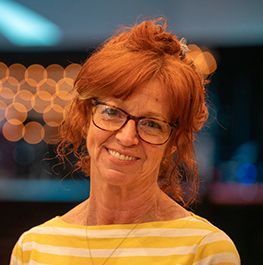 Food Pantry Director and Care Team Leader
Kathy Marlett and her husband Walter first joined the Pinnacle family in 1997, and serving the community has been a focus in their lives ever since. Kathy experienced God's miracle of restoration when He introduced her to her daughter Leah after 27 years apart. She has three wonderful grandchildren who love the Lord and amaze her every day. She also loves hiking the trails at Palo Duro Canyon, gardening at her 100-year-old farmhouse, and relaxing in the shade with a good book.
Mother's Day Out
Program Director
Nicole Havlik is the Director of Pinnacle's Mother's Day Out program. After completing her teaching degree at West Texas A&M University, Nicole found herself being called to a career in education and childcare. She is excited to see how God will work through her and the Mother's Day Out program to reach others. She has been married to her high school sweetheart for four years and they have a beautiful daughter. In her free time, she enjoys spending time with friends and family and chasing her daughter around.
Discover 7 Ways to Deepen Your Relationship with God
Download this guide and leaern how to grow your faith, fill your spirit, and become closer to God every day.